About us
At Let's Eat Thai - Marrickville, we proudly serve great tasting, authentic Thai dishes in Marrickville. You'll find an excellent assortment of starters, like our popular Fish Cake and Deep Fried Chicken Wings as well as curry dishes, rice dishes, soup, stir fried noodles and more. Our Pork Green Curry is absolutely amazing and our traditional Pad Thai is certainly a favorite. Ka Naa Moo Grob and Neu Pad Cha are a couple of our delicious specialties. When you want something great to eat, Let's Eat Thai - Marrickville has just what you need.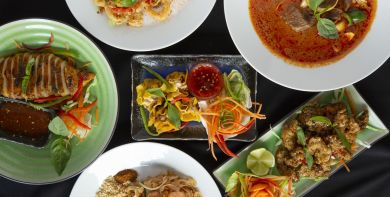 Reviews
Robert
"Wonderful experience, many thanks"
17/02/2020
Clare
"So good!! Really tasty authentic Thai cuisine. Delivery was super fast and the food was really hot even though it was bucketing with rain. I'll be ordering here all the time."
9/02/2020
Chris
"Could use more veg in the chicken cashew, but the sauce itself was some of the best I've ever had."
2/02/2020
Ali
"Perfect food..."
24/01/2020